Using HP StoreOnce Backup Systems For Oracle Database Backups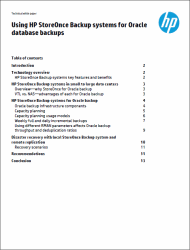 Most customers demand an efficient, reliable data growth management backup system environment while keeping costs under control. HP provides a variety of reliable data protection storage solutions that address such requirements. This paper explains how StoreOnce Backup systems offer high performance and reliability while addressing data growth through HP StoreOnce data deduplication technology for small to large customers.
Intel, the Intel logo, Xeon, and Xeon Inside are trademarks or registered trademarks of Intel Corporation in the U.S. and/or other countries.