HP StoreEasy Storage: Remote Office – Branch Office (ROBO) Solutions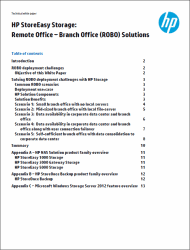 Do you struggle with managing storage growth? Managing unstructured data is a huge problem for organizations right now and many are looking for solutions to help them manage. Read on to learn how HP StoreEasy Storage adapts to your organizational needs. Regardless of the size of your organization, HP StoreEasy Storage enables you to control explosive file growth while reducing costs and simplifying data management.
Intel, the Intel logo, Xeon, and Xeon Inside are trademarks or registered trademarks of Intel Corporation in the U.S. and/or other countries.