HP Converged Storage – Business White Paper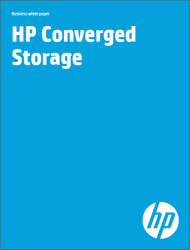 As the amount of information we generate grows, and as our relationship with information grows more complex, the race to innovate new products and services to help us harness information, manage it, and tap into it more easily intensifies. This paper discusses the continuing development of HP's strategy for delivering Converged Storage that improves the ability of your business to capitalize on information. Building on the foundation provided by fusing industry-standard technologies, federated scale-out software, and converged management, HP is now extending Converged Storage into new solutions and segments with a new initiative that introduces the next evolution of this HP Converged Storage strategy and vision.
Intel, the Intel logo, Xeon, and Xeon Inside are trademarks or registered trademarks of Intel Corporation in the U.S. and/or other countries.