HP 3PAR StoreServ Storage For Client Virtualization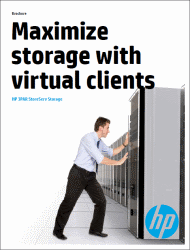 Client virtualization is an important IT strategy aimed at improving employee productivity by supporting mobility and bring your own device (BYOD) initiatives while assuring application and data security. At the same time it has the ability to improve efficiency and reduce IT infrastructure management costs. On the surface the benefits of client virtualization are very attractive, but without proven deployment methodologies based upon storage that is purpose-built for virtualization, they can be difficult to achieve. Read this paper to learn how HP can offer a complete approach to client virtualization to ensure success no matter how small or large the project.
Intel, the Intel logo, Xeon, and Xeon Inside are trademarks or registered trademarks of Intel Corporation in the U.S. and/or other countries.