HP 3PAR StoreServ Storage Best Practices Guide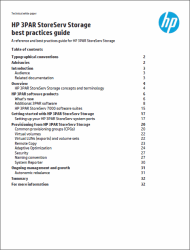 Finding the right storage solution is a lengthy and difficult task. This guide is aimed at system and storage administrators of all levels. HP 3PAR StoreServ storage is one of the most advanced storage platforms. It allows you to accelerate new application deployment, support server virtualization, the cloud, ITaaS, or whatever else your future may hold. Read on to discover how you can master unpredictability – without compromise.
Intel, the Intel logo, Xeon, and Xeon Inside are trademarks or registered trademarks of Intel Corporation in the U.S. and/or other countries.